Brooke Toczylowski is an artist, educator, and activist. Her work combines art-based research and public practice. She is currently an artist-in-residence with root2RISE, a local group advocating culturally relevant outdoor education. She has been a long-term printmaking resident at the Kala Art Institute, in Berkeley, CA. From 2004-06, Brooke lived in Latin America; in Venezuela she led arts-workshops in schools, and in Guatemala she collaborated with the World Conservation Union, through ArtCorps. Brooke's gallery work has explored white privilege, racism in schools, and our relationship to the land.
Brooke has 20+ years in education—as a teacher, curriculum coach, facilitator, and leader. She is co-founder and co-director of Agency by Design Oakland, in Oakland, CA, which implements equity and maker-centered learning, and which grew out of collaborative research with Project Zero at Harvard. Brooke also worked at Oakland International High School, an alternative school serving newcomer students. Before that she was a teaching artist with Urban Arts Partnership in NYC.Brooke recently moved to Connecticut, where she grew up. She lives with her husband and two kids. She holds a BA in Studio Art and American Studies from Williams College and a teaching credential from San Francisco State University.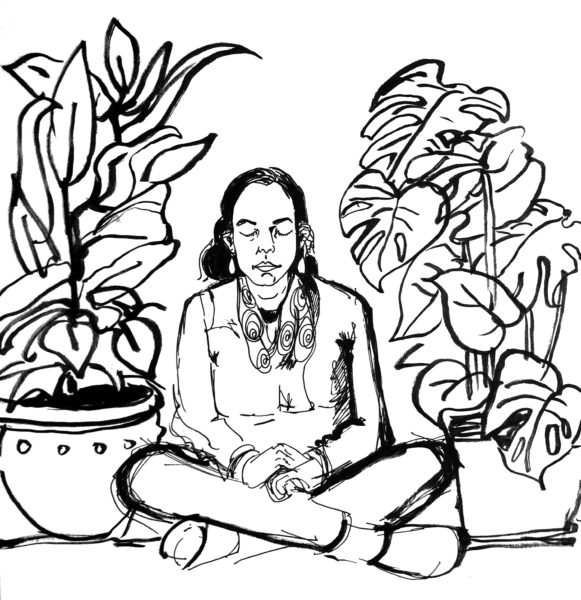 Artist as educator. Artist as researcher. Artist as activist.
Gardener. Disruptor. Systems thinker. Collaborator.

My art practice is multifaceted and interwoven with my work as an educator and learner. It currently has two active strands: creative inquiry and public practice.

At the core of my practice is art and garden-based research that involves observational drawing, printmaking, and growing food. Since teaching myself to be a gardener, in 2021, a host of inquiry questions have emerged that cover a range of topics, including seeds and how plants grow, as well as my/our relationship to living things, the land, colonialism, capitalism, and more. Ongoing work in the garden reveals new layers of learning, which I share through written reflections, documentation of process, drawings, and prints. These works are piecemeal artifacts of the larger investigation that attends to mindset and agency. Drawing on my experience with educational pedagogy, I am aware of and seek to share what it takes to cultivate a disposition—in this case, the inclination to be in right relationship with the earth, the skills needed to do so, and the sensitivity to opportunities for learning from and through process. 

In my public practice I work both independently and collaboratively. I aim to design experiences for different audiences that invite mindset shifts and challenge normative culture. I also collaborate with mission-driven organizations to use art, design thinking, and communication as tools for others to consider the role of inquiry and agency in their own lives. This looks like community-based art events or workshops aimed at igniting energy around an important issue. Or it might look like art pieces that make untold stories visible. I am committed to uncovering equity needs, building trusting and lasting relationships, and questioning the process and power dynamics. I am most excited about emergent collaborations with co-conspirators. Working in concert, over time, we can follow an inquiry, build an idea, and gather movement that affects change. 

At this moment my practice is ripe with inquiries begging for attention, harvest, and form. What does it mean to be from a place? How do we restore our relationship to the land? How do you own a piece of land that was stolen? How has capitalism impacted our agency to impact the world around us? Imagine If, instead of capitalism, our society was based on mutual aid, like the mothering of mycelium networks?